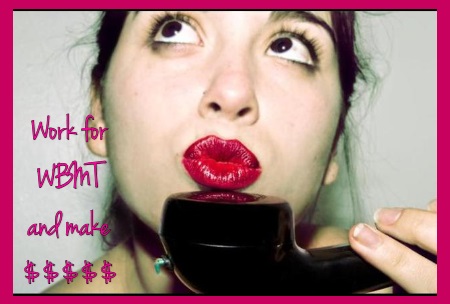 Stop what you are doing and listen to me for a second. Being a phone sex operator can change your life for the better. When I applied to WBMT, I honestly had no clue how any of this worked. I did not know how to be a PSO. And I had no clue how much money I could make either. All I knew was that I needed a job. My bank account was negative, and bills had piled up that I was unable to pay.

My husband left me. But it was a blessing in disguise. However, I never worked because he was the bread winner, and I was a stay-at-home mother. When he left, he thought I could not support myself. He wanted me to beg him to come home. All he ever wanted was me dependent on him. I did not have many options for a job. I barely graduated high school.
PSO Jobs are For All Women

A friend told me about phone sex. She saw an ad on Sexy Jobs when she was looking for a cam job. However, I felt more comfortable not on cam. I liked the way WBMT's sites looked. Plus, when I called for more information, the manager was so nice and helpful. I wanted an idea of what to expect. I was hired the next day. It is hard for me to believe that was almost a decade ago. From what I have learned, that's like an eternity in the phone sex world. Girls do not leave WBMT often because the money we make here is real. But you do have to hustle for your money.

If blogging does not scare you and you can commit to 40 hours or more a week, you can make great money too. Say goodbye to your dead end job and join the best PSO company around.